【Yosuke】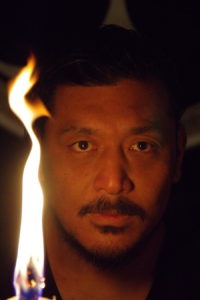 Wadaiko player, director, composer
Name   / Yosuke Oda
Sex     / Male
Birthday  / April 4
Birthplace /  Wakayama Prefecture, Japan
Blood type  /  A
【Area of Speciality 】
 "Miyake" "Wadaiko".
My playing style is intuitive and powerful.

【Career】
1999
I entered the Kodo Cultural Foundation training institute.
2003
 

I performed in 30 countries around the world while being an active Kodo member in both Japan and overseas.

My major international concert includes:
Royal Festival Hall (Britain)
America = Carnegie Hall (America) Boston Symphony Hall
Paris Opera ( France)
Cecillia Italian Concert with Orchestra ( Italy )

I produced and performed 70 exchange school concerts in Japan, to include all prefectures and coordinated overseas workshop.

2013
"Amaterasu" was performed by "Bando Tamazaburo" who is considered a National Treasure, played and stared as the key role in "Susanoo" and performed at these theater.
2017

This was the year that I relocated from Kodo and moved to Himeji City, to Hyogo prefecture. I resided in Harima and made that my base of operations. Connecting with the pspirit of Himeji Caste, known as one of Japan's treasures, I embraced its energy to share the music that I got inspired by. Creating a sound that will stir emotions and feelings to encourage a connection to all that hears it.
【Live and Life】
I specialize in Taiko (big drum) in my performances.
When I play the Taiko, I use my spirit and perform with my heart that will be very explosive. My technique has been refined and perfected for many years.
"life is fleeting and precious as long as it is shared, life will last until the end.
I would like to resonate earths energy through my performances through Taiko (big drum) throughout the world. I enjoy collaborating with other artists, teach drum classes, and even share drumming education in schools. I believe the simplest gift of peace can develop and expand boundaries through my Taiko drumming.
【 Lesson of Life】
A Taiko drumming demonstration of interaction.
A theme that I teach in schools is
"The Importance of Life" with each performance that I share. The message and lesson learned is "appreciation from the heart". To take each step, one at a time. I want to share my story and experiences through Taiko drumming.
All that I have learned and the experiences I have gained thought me that life is so amazing! I want to share this message from my heart.
【My Taiko World Dream】
I had the honor and opportunity to play on the biggest Taiko drum outside of Japan in Hawaii. The Taiko drum was made by "Asano Taiko".
Listed in the Guinness Book of World Records is a drum named "Heian Drum".
This drum can be found in Uwajima city located in the Ehime prefecture.
I was privileged to perform on this special Taiko drum.
There are still exists many more special giant Taiko drums in the world. I will challenge myself and honored to be invited to play and perform on them all.                                                                          
Translated by FitHawaii, Aki Conquest and Michael Takamura